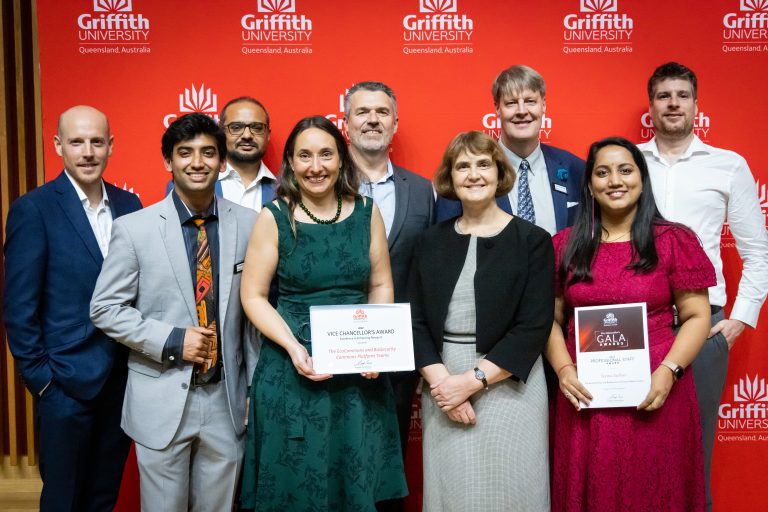 EcoCommons Australia and Biosecurity Commons have jointly won the 'Excellence in Enhancing Research Award' at Griffith University's Vice Chancellor's Awards for Excellence in Professional and Support Staff Service 2022.
Both projects have been recognised for their outstanding contribution and initiative in support services that have helped enhance research capacity and outcomes at either the departmental level or the university-wide level.
EcoCommons will transform how researchers and decision-makers can make predictions and take action on ecological and environmental challenges, while Biosecurity Commons will change the analysis of biosecurity risks, such as the impact of invasive species in Australia, and how we respond to them.
The two projects are being developed side-by-side with EcoCommons set to launch on 29 November 2022 and Biosecurity Commons in May 2023.
Dr Elisa Bayraktarov, EcoCommons Program Manager, said: "We're very proud to be recognised in the Vice Chancellor's Awards. EcoCommons has now won two awards in two months and momentum is building towards our launch on 29 November."
Paul Tudman, Biosecurity Commons Project Manager, said: "This is great news for Biosecurity Commons, we're delighted to be recognised by Griffith University for the impact of our project."
The two projects have been awarded $6.8 million dollars in funding to progress Australia's scientific modelling capability.
Both platforms will empower Australian practitioners and researchers to use trusted datasets, modelling tools, and training resources to produce high-quality research that will inform and accelerate evidence-based policy and decision-making for the environmental, conservation and biosecurity sectors.
The EcoCommons Australia and Biosecurity Commons projects are the first of their kind to demonstrate the re-use of a core platform infrastructure for scientific modelling.
The collaboration demonstrated by both projects stands as a best-practice model for future IT research projects and provides a consistent approach to modelling across disciplines, while at the same time it bridges the gap across domains such as research and decision-making.
The Vice Chancellor'sAwards recognise the exceptional work of Griffith University staff across the fields of research, professional and support, learning and teaching, and internationalisation.
They celebrate many of the University's hard working and dedicated staff who continue to innovate, make discoveries and go above and beyond to help build a brighter future.
The awards were presented at the Vice Chancellor's Gala Awards ceremony at Griffith's Gold Coast campus.